Regular price
$469.00 USD
Regular price
Sale price
$469.00 USD
Unit price
per
Sale
Sold out
✓ No Sales Tax (Except in Texas)
✓ Free Shipping In The Continental USA
✓ Need Help? Call Us: (833) 867-7437
✓ Lowest Price Guarantee
✓ 100% Money Back Guarantee
✓ Free 7–30 day trial once approved with Klarna
✓ Exclusive: Get 3% off with discount code:

TRE23
The MotoTec Demon 50cc Kids Dirt Bike

The Mototec Demon 50cc is a powerful and stylish mini bike with a 50cc engine for smooth and reliable power on any terrain. It boasts a sleek black finish and aggressive styling, making it a head-turner. The bike is also designed for comfort with a comfortable seat and easy-to-use twist throttle. Its compact size and lightweight frame make it easy to store and transport. Experience the perfect combination of power, style, comfort, and convenience with the Mototec Demon 50cc.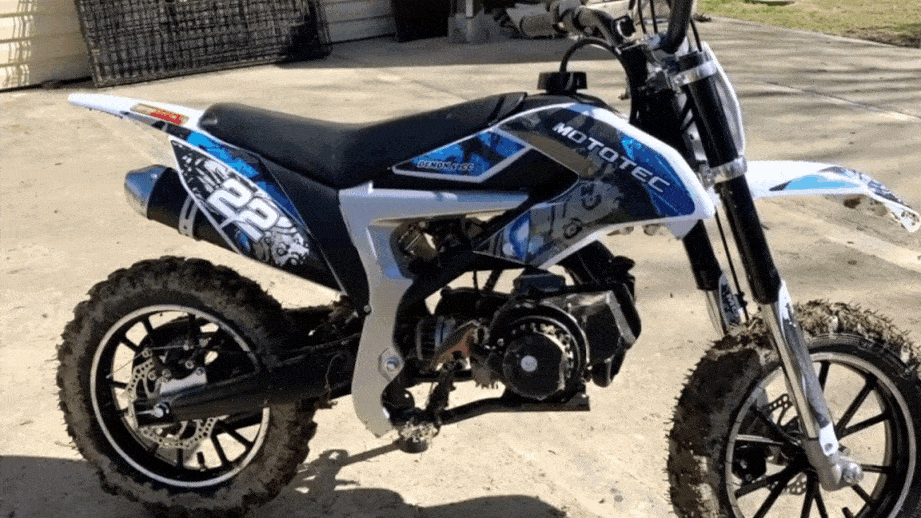 The MotoTec Demon 50cc Kids Dirt Bike - The perfect kid's starter dirt bike. The latest generation of 50cc mini bike engines are faster, torquier, more reliable, and even easier to set up and start than ever before. Easy pull start, improved carburetor, and all of the standard safety features, support, and reliability MotoTec provide.
Pull Start System
The MotoTec Demon 50cc Kids Dirt Bike is designed with a convenient pull start, making it easy to start and get on the road. The pull start system eliminates the need for a battery, ensuring that your kids can enjoy their ride without any hassle. The pull start mechanism is easy to use and requires minimal effort, making it perfect for kids who are just starting out. The pull start on the MotoTec Demon 50cc Kids Dirt Bike is a reliable and user-friendly feature that adds to the overall convenience and fun of this kids' dirt bike.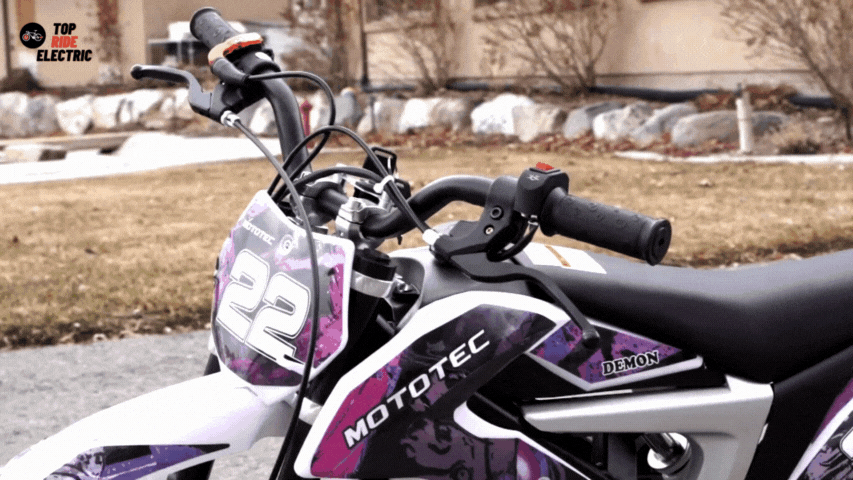 Key Ignition
The MotoTec Demon 50cc Kids Dirt Bike comes equipped with a convenient and reliable key ignition system. This key ignition adds an extra layer of security and control to the dirt bike, ensuring that only authorized users can start the engine.
The key ignition is designed with user-friendly functionality in mind. Simply insert the key into the designated slot and turn it to the "on" position. This action activates the ignition system, allowing the rider to start the bike with ease.
Not only does the key ignition offer a secure starting mechanism, but it also provides peace of mind for parents or guardians. By having control over the key, they can supervise and regulate the bike's usage, ensuring the safety of the young riders.
With the MotoTec Demon 50cc Kids Dirt Bike's key ignition, you can trust that your child's riding experience will be both thrilling and secure.
Adjustable Throttle
The MotoTec Demon 50cc Kids Dirt Bike is equipped with an adjustable throttle, providing young riders with a customizable riding experience. This feature allows riders to control the bike's speed and acceleration according to their skill level and comfort.
The adjustable throttle is designed to provide a gradual increase in speed, giving beginners the opportunity to familiarize themselves with the bike's power in a controlled manner. By twisting the throttle, riders can smoothly increase or decrease the bike's speed, allowing them to build confidence and master their riding skills at their own pace.
Parents or guardians can also appreciate the adjustable throttle feature as it offers an additional safety measure. By limiting the bike's top speed, they can ensure that younger riders stay within a comfortable and manageable speed range, promoting a safe and enjoyable riding experience.
Whether your child is a beginner or more experienced, the MotoTec Demon 50cc Kids Dirt Bike's adjustable throttle provides the flexibility to adapt to their individual riding abilities, making it an ideal choice for young dirt bike enthusiasts.
Rubber Tubular Tires
+ Front & Rear Disc Brakes
The MotoTec Demon 50cc Kids Dirt Bike is equipped with high-quality rubber tubular tires and front and rear disc brakes, ensuring superior performance and safety during off-road adventures.
The rubber tubular tires are specifically designed for rugged terrains, providing excellent traction and stability. Whether your child is riding on dirt, gravel, or grass, these tires grip the surface securely, allowing for enhanced control and maneuverability. They also offer a smooth and comfortable ride, minimizing vibrations and bumps along the way.
In addition, the front and rear disc brakes deliver reliable stopping power. These brakes are highly responsive, allowing riders to quickly and effectively bring the bike to a halt when needed. The disc brake system ensures consistent and efficient braking performance, even in wet or muddy conditions, giving both riders and parents peace of mind.
The combination of the rubber tubular tires and front and rear disc brakes on the MotoTec Demon 50cc Kids Dirt Bike guarantees a safe and thrilling riding experience. Your child can enjoy the excitement of off-road adventures while having the confidence that they can handle any terrain with ease and stop safely when required.


Product Specifications:
Motor: 50cc 2-Stroke, Air Cooled

Gas/Oil Mixture: Unleaded/25:1 ratio

Bore x Stroke: 44.02mm x 33.2mm

Rated Output: 2.4 hp @ 7,000 rpm

Engine Start: Pull Start

Gas Tank: 1.6 Liter

Top Speed: 25 mph (adjustable speed limiter)

Cruising Range: 10+ miles per tank

Safety: Throttle Limiter

Transmission: Auto Centrifugal

Chain: 11T/54T - T8F Size

Carburetor Jet: 2.00mm (main) and 0.67mm

Recommended Age: 13+

Max Rider Weight: 150 lbs

Seat Height: 23 inches

Frame: Steel

Front & Rear Wheels: Aluminum Alloy

Front & Rear Tires: 2.50-10 (15 inch diameter, 2.5 inch wide)

Brakes: Front Disc, Rear Disc

Suspension: Front Inverted Fork and Rear 190.5mm Mono Shock

Throttle: Variable twist-grip

Seat: Padded (single rider)

Handlebars: Angle Adjustable, Not Height

Seat Height from Ground: 23 inches

Wheelbase: 34 inches (850mm)

Ground Clearance: 9 inches

Assembly Required: Yes

Box Size: 41x12x22 inches

Box Weight: 64 lbs

Dirt Bike Dimensions: 49x23x31 inches

Dirt Bike Dry Weight: 49 lbs
Note: Availability is subject to change without prior notice. Please verify availability of item before placing an order by clicking the chat button or contacting us at (833) 867-7437 between 9:00 AM - 5:00PM Central.
SEE IT IN REAL LIFE
Why Buy From Us

Returns are easy, simply contact us for a returns number and send your item to our returns centre for fast processing. We'll get you a replacement or refund in a snap!

We insist that you love everything you buy from us. If you're unhappy for any reason whatsoever, just let us know and we'll bend over backwards to make things right again.

Ordering from Shopyimized is 100% safe and secure so you can rest easy. Your personal details are never shared, sold or rented to anyone either.
Shipping

Shipping: All products Ship by courier (Fedex or UPS) from the US warehouse. All products come 90% assembled. 

Delivery: Estimated between Mon Mar 06 and Tue Mar 0. Will usually ship within 2-3 business day.
Delivery and Returns

Please allow 10 days for your order to arrive.  We source products from all over the world to bring you epic offers and the lowest prices. This means sometimes you have to wait a little longer to get your order but it's always worth it!

Returns are easy, simply contact us for a returns number and send your item to our returns centre for fast processing. We'll get you a replacement or refund in a snap!
Share
View full details
Great learning bike daughter loves it
There's not many reviews I've found for this but at this price it is a great learning bike for kids between 6 -10 years old. Easy to assemble comes with gas mixing tank so you know exactly the right amount of gas and oil to mix. Starts right up every time on the first pull. My 7 yr old daughter loves this and rides it daily for hours.
It has the title with the vin number. Very cool
My son loves it. This bike is excellent for youth. My 8 years old and 16 years old rides. Thy enjoy. It's fast and durable. Even adults can try to ride. It's not too big. It's excellent size medium. Love it. Definitely recommend. Doesn't eat lot of gas. When you put gas make sure to add oil too.
Better than bad.
Got it for my 8yr old daughter and she loves it. It'll definitely be too small by next year though. The build quality is as you would expect with something this inexpensive. I can hold the front tire between my ankles and still turn the handle bars at least a few inches, but it hasn't seemed to phase my kiddo. And after a couple weeks, I've needed to go through and tighten many bolts and screws. It also uses a gas/oil mixture ratio of 25:1. Not sure why, that's twice as much oil as a normal two stroke motor.
There are no gears. Its a clutch based drive system. That's great for a kid to learn on, but it has its disadvantages too. For example, I went for a hike and my daughter rode with me up the trail. As the bike got hot, so did the clutch. As a result, it wouldn't carry her up the hill under its own power even at full throttle. I had to push her the rest of the way & then let the bike cool down before continuing.
All that said, she still loves it, I'm happy with that, and I have no regrets buying it.
Go over everything! Re tighten every bolt and check things over well!
This dirt bike can go! It is fast! We purchased this for our 8 year old son. He absolutely loves it! After a couple of hours riding, we did notice some of the bolts were a little loose so make sure to tighten EVERYTHING up before use! Also, the bike wouldn't start at first, my husband (who is a mechanic) had to do some adjustments and now it starts with the first pull. It has been ridden almost daily for a few months now and has had zero issues! This thing pulls my 185 pound husband without hesitation! He's rode it after adjustments to make sure it was safe enough for our son (😂) We did decide to buy a second one for our grandson. Both bikes were very much worth the month paid! The bike comes with 3 sets of different colored stickers, the stickers don't really line up well to the bike, but they work well enough for their purpose. Loads of fun for the kids!
Great value
My son loves his dirt bike. He can start it himself and it has just the right power for a beginner. Great value. Don't spend a thousand dollars more for the same big smile